LinkedIn Growth Hack #1: The 5 step formula that makes you unbeatable to close the deal
Businesses marketing on LinkedIn generate 277% More Leads on average than those engaged in Facebook marketing alone. Surveyed B2B marketers also said that LinkedIn is responsible for 80% of their social media leads. This is a lot left on the table!
Linkedin is the biggest directory of business owners, yet people underestimate the power of this platform.
With the help of the powerful tool named LinkedIn Sales Navigator you directly reach out to the sampled pool of prospects rather than wasting your time and money with an unsegmented, entire population. Therefore, I highly recommend any entrepreneur to include LinkedIn in their marketing mix.
If you want to Generate High-Quality B2B Leads, no other platform is more effective than LinkedIn.
Here is the step-by-step system to Never Worry About Lack of Leads or Meetings Again.
Add on Perk – All this process is already tested on hundreds of successful clients and you take it all for free. So bring out your pen and paper to note down the important points. Also at the end of the article, you'll find a BONUS so keep on reading…
ATTRACT: Build a network with your target audience using the filters of LinkedIn Sales Navigator. Now, this is according to your Ideal buyer persona of the product or service you provide. Based on it you will apply filters. For example, if you are targeting restaurant owners located in London, with company size medium and profile language English, then this could be your search.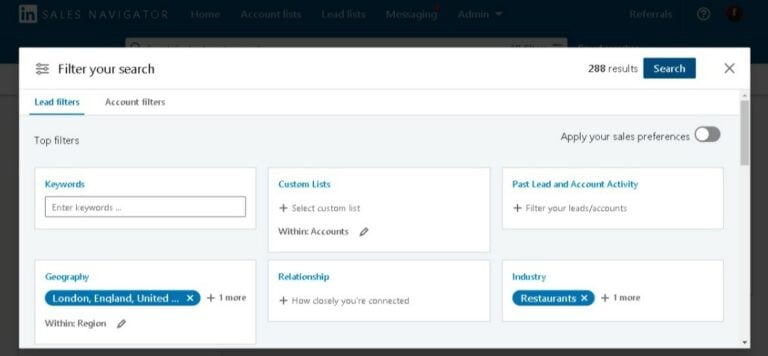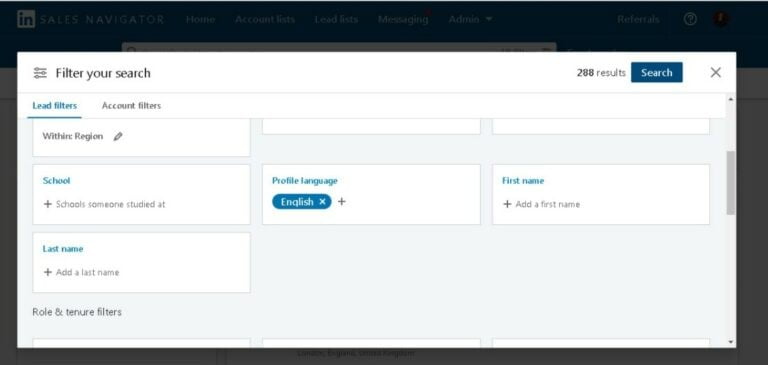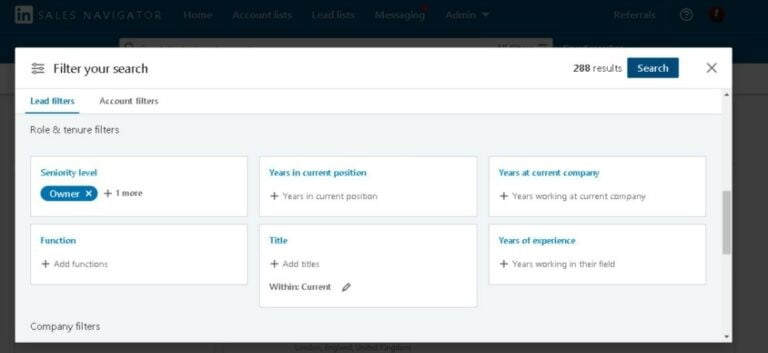 2) BUILD RELATIONSHIPS : After you have a defined target audience Start conversations with them. Send them personalized connection requests. By personalization, I don't mean adding their name and start telling about what you do and how great you are. Start by mentioning something in common like mutual group, interest, or maybe they've started a new position so congratulate them. Even if you're using an automation tool show them that they are talking to an actual person and not a robot who is copy-pasting un-personalized messages. Normally the acceptance rate of such custom messages enjoys a much high percentage of 60-70%. So do some research and craft out a message template that is personalized for a sampled group of prospects rather than chasing an entire population with poor metrics. 
 ( By the way, Soon I'll be sharing some of my message templates that we use for our clients for Free. so go and follow Leads 'N Latte official handle so you don't miss any of your lead in the hands of your competitors! )
3) ENGAGE & EVALUATE: Understand their product or service, goals and Analyze if you both can mutually benefit. After this map out what's best to take them to their dream destination.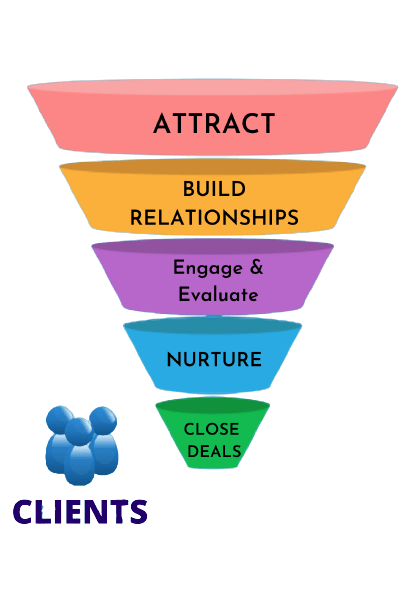 4) NUTURE : As they understand that you can be a resource, Take them off LinkedIn and schedule a meeting to nurture them further. Show them that you hold authority in your field and they need you to take them to their dream destination. 
5) CLOSE DEAL : And now what's stopping you? You just turned a complete stranger on LinkedIn into a paying customer.
Closing a lead is an art. And guess what now you have gained expertise in it.
Summary : 
It is not about generating traffic it's about reaching out to your sampled group of identified potential customers, engaging with them, building relationships & securing their trust, and then it's almost unstoppable to close the deal.
I know I know it will take time. It's not a one-night get-rich-quick scheme! That relationship and trust factor that you built will happily pay you month by month, year by year, and most importantly the drastic increase in ROI you'll notice will definitely be worth your time.
"But I don't have time!" 
Don't worry I got your back. Here's the bonus as promised.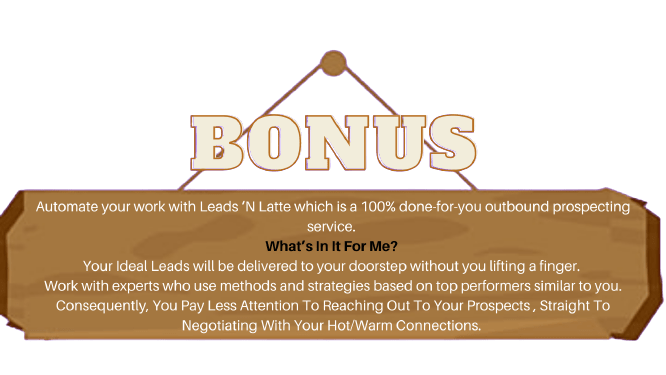 Our clients love us. You'll, too!
Public Relations & Communications
"100% satisfied with the results and definitely received what they claimed for. I was closely in touch with Tanvi and we often had strategy calls where she always added value to improve the campaign. Since I target multiple audience so I was looking for an agency who can deliver customized solutions for each group of audience. Leads 'N Latte made it happen! The entire journey was utmost flexible to my needs and my target audience. I received results from the very first month from top companies around the world which is overwhelming for us. I will definitely continue this partnership and I hope they keep delivery such results."
Information Technology, IT Consulting
" Leads 'N Latte team are very reliable and hardworking agency. Tanvi, Yash and their team helped me with LinkedIn Lead Generation and get high-ticket clients. They crafted very brilliant outbound messages and modified them from time to time with improvements. Always seeking to make improvements in the campaign. They operates with 100% transparency, flexibility and we had weekly strategy calls to discuss the campaign. It removes all communication gaps which are often faced with other marketing agencies I worked with. My best wishes for their continued success in all upcoming projects."
"Leads 'N Latte Team helped me to sell our Artificial intelligence, machine learning courses on LinkedIn. They prepared a unique strategy to target only Btech pass outs and reach out to them with a compelling message. I received a constant supply of leads from the very first week. They filled my sales pipeline and I was able to convert some leads. I'm Happy with the results and will surely suggest their lead generation service."
CREATIVE DESIGNING & Content, Video marketing
"Great work in the last 4 months of the campaign! I have received an overwhelming increase in Leads and Closed Clients that are one of the top FMCG companies in India. They were always ready for new challenges and constantly implemented new strategies to improve the campaign results. Worked with a sense of urgency throughout the period. We're pleased with the results so far and I look forward to continue this partnership for a long term."
Electric Vehicle Automotive
" They deliver what they promise, and they are prompt. I target multiple target audiences but they were extremely flexible and delivered results from each group of the target audience. Looking forward to a long term partnership with these guys. We recommend their Lead Generation program, it have worked extremely well for us"
IT Consulting, Computer Software
" Leads 'N Latte and their team helped me generate 10X ROI while lowering our cost per meeting and cost per acquisition drastically. They know how to exactly find ready-buy people and how to convince them to purchase your products through their messages. I never really used LinkedIn for finding clients and now I regret why did I waste so much of my money on Advertisements. I would highly suggest anyone looking to generate B2B leads on LinkedIn. "
" Leads 'N Latte is a team of professionals who have the best Knowledge on how to start a conversation with decision-makers at top level companies, convince them and get them on a phone call, all via a single channel LinkedIn. They provided us 2 highly convertible leads within 24 hours of launching the campaign and thereafter a constant supply of leads, freed me to focus on closing deals and managing my business instead of prospecting . Throughout the journey they operated with utmost transparency, flexible and provided clients we desired.
Ready To Make Your Campaign A Real 'Lead Rainmaker'?
It's OK, go ahead and
ask.
Serving all around the globe!